Reading Plans on ScripturePlus Released for Good Friday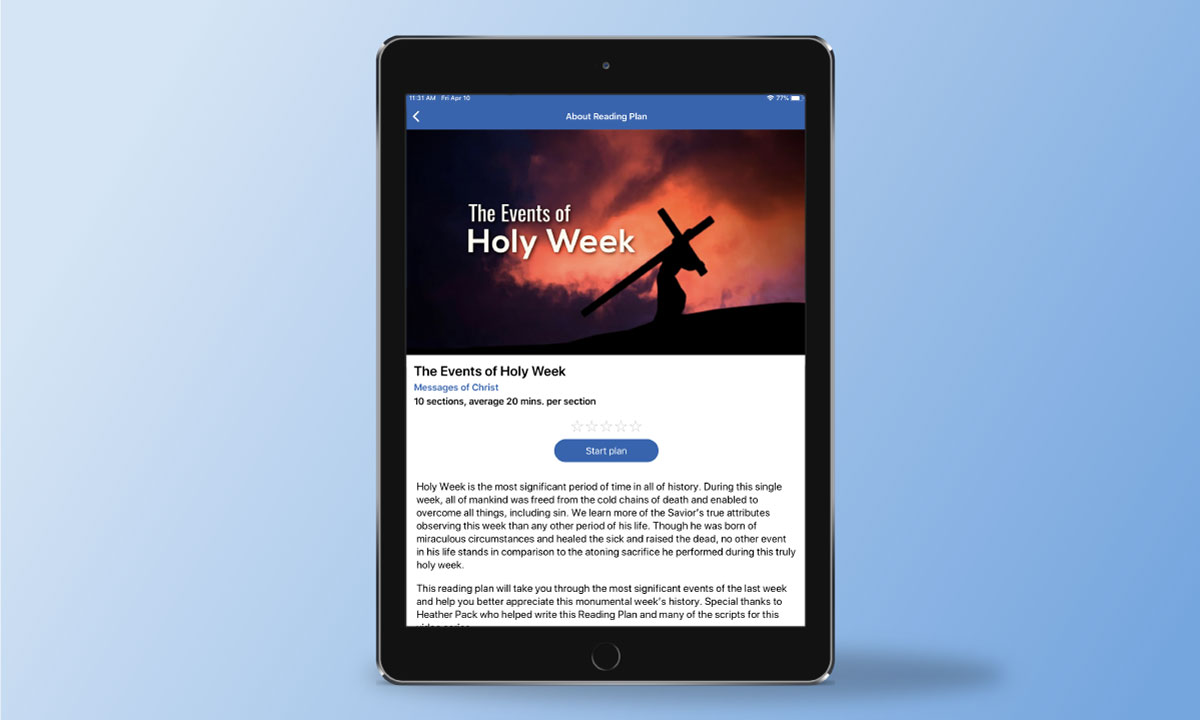 Reading Plans in ScripturePlus were released today on iOS (Android to follow soon), in time for Holy Week and Good Friday. Reading Plans have been a long anticipated feature in ScripturePlus, that will allow students of the scriptures to engage with the Holy Word of God in new ways.
Reading Plans are structured, step-by-step guides to scripture study. These plans are split up into easy-to-digest sections with specific assignments. An assignment may have passages of scripture to read, short videos, questions to ponder, and commentary on that section's topic. These Reading Plans are designed to help you have meaningful and productive scripture study by providing you with readily accessible ideas and resources for a particular topic of study.
Reading Plans currently available in ScripturePlus include
The Events of Holy Week
The Birth of Christ
Prophecies of the Birth of Christ
Many more plans are anticipated to populate ScripturePlus soon, including
Understanding the Restoration
Doctrinal Mastery
The Covenant Path in the Bible and the Book of Mormon
Women in the Genealogy of Jesus
Preach My Gospel study guide
How to Use Reading Plans
Users can access Reading Plans in ScripturePlus through the left-hand menu, as illustrated below. Users can browse new plans for their personal study, or keep track of their progress on plans they're currently studying.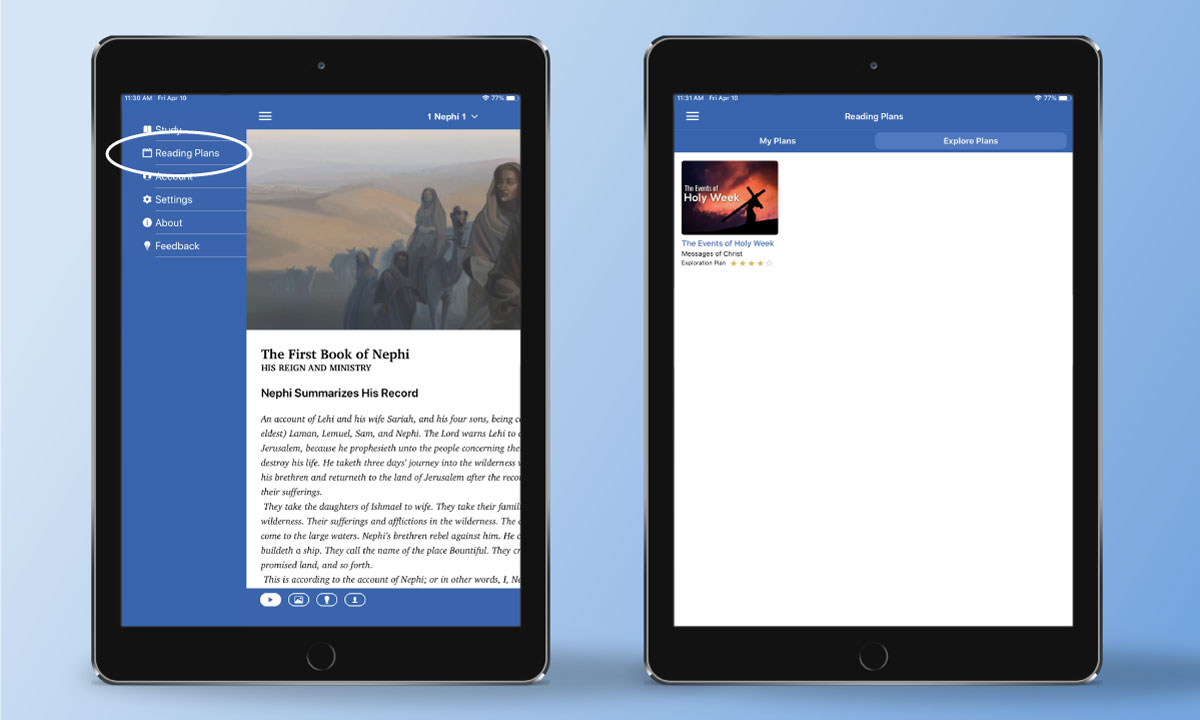 Once you select a plan to study, you can read information about the plan and the plan's author. Upon starting the plan, you are presented with your plan's home page, where you can keep track of your progress and browse all the reading assignments in that plan.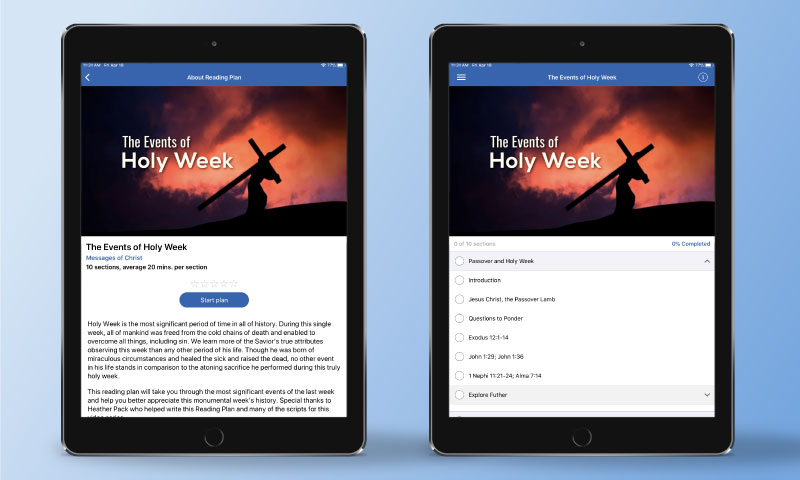 One you start a section, you can tap through each assignment, being edified by scripture passages, videos, commentary, questions to ponder, and conclusions.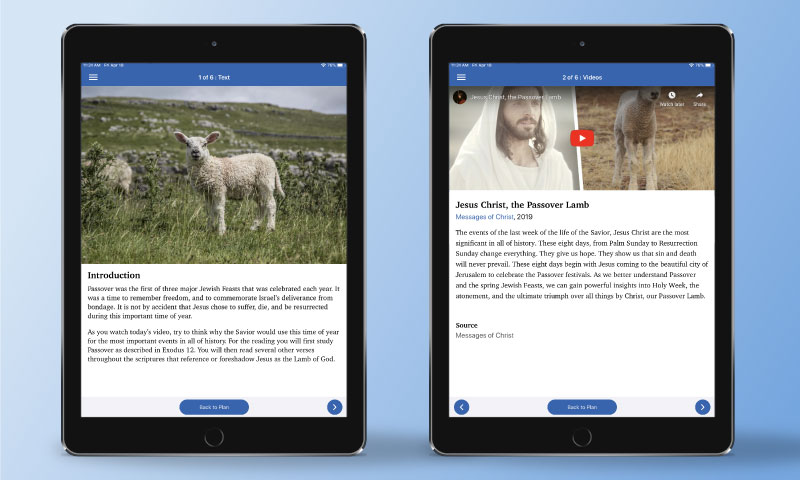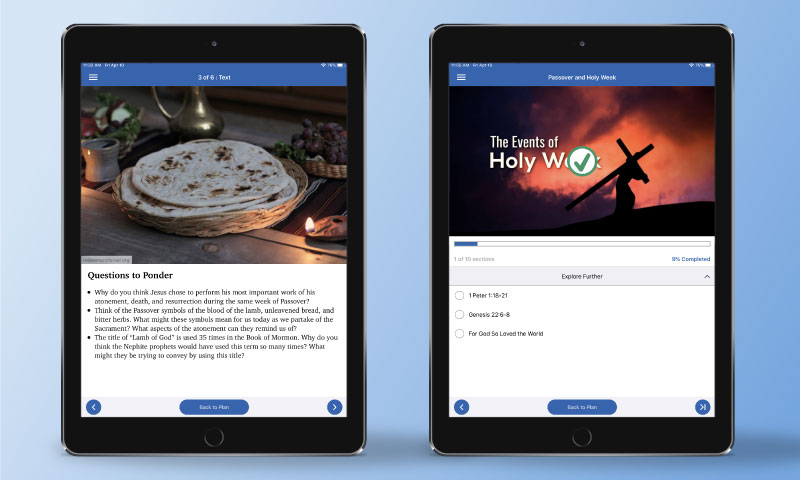 Upon finishing a section's reading assignment, you'll be presented with optional further reading and the chance to move on to the next section. At any time, you can return to your Reading Plan's home page by tapping the "Back to Plan" button on the bottom of your screen.
Future Development
ScripturePlus has big plans for the Reading Plans feature. While only a few plans are available now, we anticipate adding many, many more plans as we innovate and collaborate with top students of the scriptures.
In addition to these "Topical" Reading Plans, ScripturePlus is developing "Calendrical" Reading Plans, that will allow you to study assignments in conjunction with a calendar or day-by-day sequence. For example, Book of Mormon Central's, Resource Guides for Come, Follow Me 2020 will be fashioned into a 365-day Reading Plan for studying 2020's Come, Follow Me curriculum.
Download ScripturePlus today to take advantage of this new, exciting feature! Follow ScripturePlus on Facebook, Instagram, and Twitter to keep informed on all ScripturePlus' features and updates.